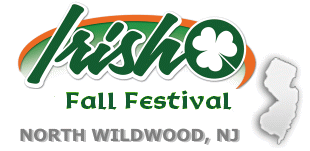 NORTH WILDWOOD, NJ - We are pleased to announce that plans are being made for the 2022 Irish Fall Festival. The dates are September 23, 24, 25. As COVID restrictions are being lifted and things slowly returning to "normal", we are hopeful that we continue to move in the right direction and can once again safely enjoy the company of family and friends. We deeply appreciate your loyalty and support in the past and we look forward to seeing you at the 2022 Irish Fall Festival.


Irish Fall Festival Jitney Service!
Looking for the easiest way to get to the festival? Take the Jitney! Jitney's will be running a loop from 3rd Ave, South along New Jersey Ave to 26th Ave, then North on Surf Ave, back to 3rd. (Insider tip- park along the trolley route and hop on board for a quick hassle free way to the festival). Friday 1 pm-midnight, Saturday 1pm-midnight.


Use the links below for information about the 2022 Irish Festival!